A Morning of Cozy Classics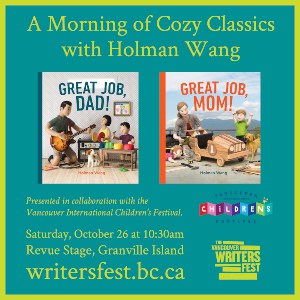 Whether Pride and Prejudice or The Empire Strikes Back, Holman Wang's beautifully-detailed books abridge literary and cinematic classics into just 12 words and 12 needle-felted images. These original, exquisite and joyful interpretations have earned accolades in The New York Times, The Wall Street Journal, People, and The Globe & Mail, amongst others. Who would guess that Wang is also a lawyer by day? In this family-friendly event, the felt artist and author shares how he discovered his passion for children's books, creates his art and juggles careers. He'll also talk about his newest books, Great Job, Mom! and Great Job, Dad!, hailed by the School Library Journal as "masterpiece[s]". Bring your little ones—and your own creative ambitions!
Presented in collaboration with The Vancouver Writer's Fest.
Performer: Holman Wang
Country: BC / Canada
Show length: 75 minutes
Ages: Ages 5 and up
Venue: Revue Stage
Show Times
Saturday, October 26, 2019
10:30 am — 11:45 am Revue Stage
Tickets
Free (pay what you can). Please visit The Vancouver Writer's Fest website for further details.