Activity Village 2019
May 01, 2019
Spend the day being creatively playful in our Activity Village. Get creative with your kids by taking part in our on-site arts activities. Watch their eyes light up as you wander through a magical mystery maze, learn how to juggle, make crafts and have a blast!
Your show ticket includes an Activity Village wristband!
Hours:
Monday-Friday – 9:30am-2:30pm
Saturday – 10:30-6pm
Sunday – 10:30 – 5pm
(Note: Our on-site activities are NOT open during the Evening Shows. Show your ticket anytime during the Festival and you'll get an Activity Village wristband for that day.)
Unable to come to a show but still want to take in the Festival? Activity Village wristbands are available for purchase on-site. Everyone needs a wristband to enter the Activity Village.
Activity Village Wristband – $6 per person (includes tax and s/c), available on-site – cash only.
Here are some of the playful and educational arts activities we have ready for you to explore: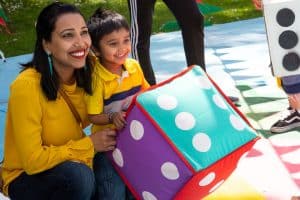 AGES 0–5
Twist & Toddle!  Play and create in this tent jam-packed with fun for the under 5 set.
AGES 3+
Circus Arts  Learn the basics of juggling, Diablo, rhythm sticks and stilt walking from young circus pros.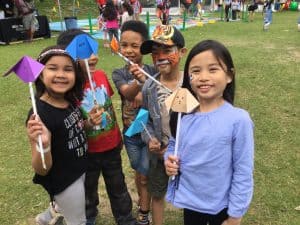 Waterworks Build a boat and sail it through chutes, tunnels, turns and drops. Race your friends and then start all over again.  NEW!
Spin Art Create a colourful one-of-a-kind splatter painting while riding a bike!
CanoeKids!  Come canoe, kayak and dragon boat with the False Creek Racing Canoe Club! Hours: Sat and Sun 12pm – 4pm
AGES 3–10
Creature Creations Make or become you very own creature creation. Mythical or realistic, fierce or gentle, it's up to you. The only limit is your imagination! NEW!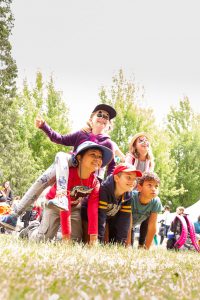 AGES 5+
Port of Vancouver Proud sponsor of this year's Indigenous arts activity. 
Indigenous Arts – Bone and Stick Game Use modern materials to make your own version of a classic Indigenous game. Create and decorate your own game and improve your hand-eye coordination while you play. Presented by the Port of Vancouver. NEW!
LunarFest: Universe of Piggy Banks Piggy Banks have arrived from outer space and they need your help! Help them collect money so they can buy things from around the world. Be the first person to finish and you could win a prize! NEW!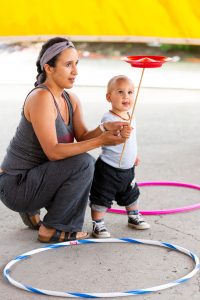 MAKE- In-store Activity Join the creative crew at MAKE for some fun creature crafts! 
Opus In-store Activity Join Opus Art Supplies staff for a tie dye extravaganza! Bring a white t-shirt (or anything you want to tie dye) to the store for some fun with tie dye – materials will be supplied by Opus. NEW! (1-3 Sat, Sun only)
ALL AGES
Facepainting Get your face painted as a lion, a tiger or a superhero, oh my! A Kids' Fest tradition for over 40 years!
The A-Mazing Maze Play games in our enchanting outdoor maze.
Hai Origami Make a boat, butterfly, party dress or heart while learning the intricate art of Japanese paper folding.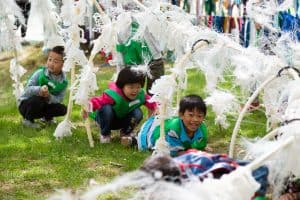 Mainland Model Train CHOO CHOO! Come see working modular trains in an incredible immersive environment. Plus, celebrate CN's 100th anniversary by taking a photo with Little Obie, a scale model of a CN locomotive with a flatcar and caboose! Presented by CN. NEW!
Musical Petting Zoo Make some noise and try out the instrument of your dreams at the Musical Petting Zoo! Presented by Long and McQuade. (Fri, Sat, Sun only) 
Sea to Summit Adventure Game A life-sized game inspired by snakes and ladders. Presented by Sea to Sky Gondola.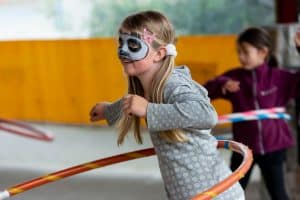 Travel the World A new version of our world-wide trivia fun. What will you learn about the world while you play? Presented by the Vancouver School Board. NEW!
The Wishing Tree Make a wish and hang it on our tree. Who knows, maybe your wish will come true! 
Feel the beat with QUEST Drummers! Before each performance they will sing a new Indigenous song called Am'lala sa Kumuxse which means, 'Play song of the K'omoux'. An Elder and fellow Song Keeper will sing with them. Friday and Saturday only. 
Dream Big Kids can digitally colour images and then see them come to life on a large 20 foot LED screen. Each picture added reveals interesting facts about California and a chance to win prizes and giveaways. Presented by Visit California. NEW! Saturday and Sunday only.