Activity Village 2018
April 17, 2018
Spend the day being creatively playful in our Activity Village. Get creative with your kids by taking part in our on-site arts activities. Watch their eyes light up as you wander through a magical mystery maze, learn how to juggle, make crafts and have a blast!
Your show ticket includes an Activity Village wristband!
Hours:
Monday-Friday – 9:30am-2:30pm
Saturday – 10:30-6pm
Sunday – 10:30 – 5pm
(Note: Our on-site activities are NOT open during the Evening Shows. Show your ticket anytime during the Festival and you'll get an Activity Village wristband for that day.)
Unable to come to a show but still want to take in the Festival? Activity Village wristbands are available for purchase on-site. Everyone needs a wristband to enter the Activity Village.
Activity Village Wristband – $6 per person (includes tax and s/c), available on-site – cash only.
Here are some of the playful and educational arts activities we have ready for you to explore: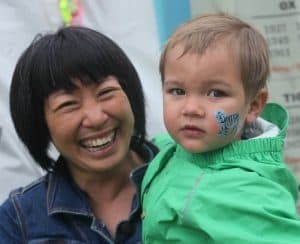 AGES 0–5

Twist & Toddle! – Play and create in this tent jam-packed with fun for the under 5 set.
AGES 3+
Circus Arts – Learn the basics of juggling, Diablo, rhythm sticks and stilt walking from young circus pros.
CanoeKids! – Come try canoeing, kayaking, or dragon boating with the False Creek Racing Canoe Club! Hours: Sat and Sun 12-4pm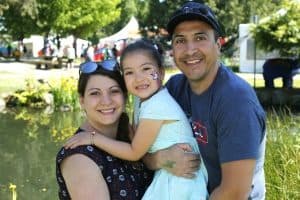 Knowledge Kids Science Lab – Create a Craft Stick Harmonica and learn how pitch changes with the instrument you create. NEW!
 AGES 3–10
For the Birds Make your own paper bird puppets to fly around the festival site, and learn about some local birds. NEW!
AGES 5+
Port of Vancouver – Proud sponsor of this year's Indigenous arts activity.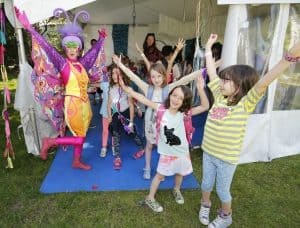 Indigenous Arts – Help create and decorate traditional animal totems like Bear, Eagle, Wolf and Whale. Once complete, each animal will be added together to create a totem pole. Presented by the Port of Vancouver. NEW!
Spin Art with MAKE – Create a colourful one-of-a-kind splatter painting while riding a bike! NEW!
LunarFest Moon Crawl – This super-sized ball pit inspires plenty of room to super-size your imagination! How quickly can you find your moon? NEW!
MAKE- In-store Activity – Join the creative crew at MAKE for some super fun creature crafts! Build your own dinosaur or llama, and best of all you can bring your creature home! Suggested donation of $2 with proceeds going towards the Children's Festival. NEW!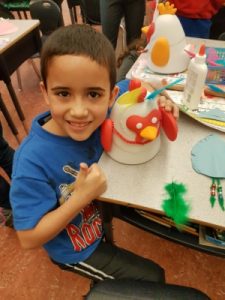 ALL AGES
Face Painting – Become whatever you'd like to be, the only limit is your imagination. A Kids' Fest tradition for over 40 years!
Calypsi: Giant Singing Creature of the Deep – Part interactive sculptural installation, and part musical instrument, Calypsi comes to life as her ribcage is played creating enchanting music. NEW!
The A-Mazing Maze – Play games in our enchanting outdoor maze.
Twister – Are you made of rubber? Show off your best moves in our life-sized Twister game.
Hai Origami – Make a boat, butterfly, party dress or heart while learning the intricate art of Japanese paper folding.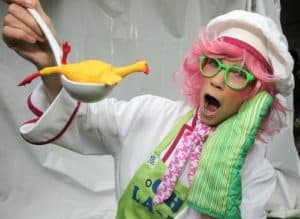 Mainland Model Train – CHOO CHOO! Come see working modular trains in an incredible immersive environment. Presented by CN.
Encorp Return-It Booth – Visit the Encorp Return-It 101 booth to participate in our interactive activities and learn about the importance of recycling all of your beverage containers, whether at home or on the go!
Musical Petting Zoo Make some noise and try out the instrument of your dreams at the Long and McQuade Musical Petting Zoo! (Fri, Sat, Sun only) NEW!
Wild Migration Map – Explore the Canadian Wildlife Federation's WILD Migration Map with the help of Ocean Wise Educators, a part of the Camps and Clubs team at the Vancouver Aquarium. NEW!
Sea to Summit Adventure Game – A life-sized game inspired by snakes and ladders. Take the Sea to Sky Gondola up or down the board. NEW!
The Zen Zone – Roar like a lion, be still like a tree and salute the sun in this fun and playful introduction to yoga. (Fri, Sat, Sun only)
Travel the World -Travel the 7 Continents while you play and learn amazing facts from around the world with the Vancouver School Board!
The Wishing Tree – Make a wish and hang it on our tree. Who knows, maybe your wish will come true!