2016 Activity Village
April 06, 2016
Spend the day being creatively playful in our activity village. Get creative with your kids by taking part in our on-site arts activities. Watch their eyes light up as you wander through a magical mystery maze, learn how to juggle, make music and have a blast!
Activity Village Wristband – $6 per person (includes tax and s/c), available on-site – cash only.
Here are some of the playful and educational arts activities we have ready for you to explore:
Human Board Games—What piece are you? Show off your best board moves in these life-sized games. Festie-Land (Presented by the Vancouver School Board) | Twister | Tic Tac Toe
Circus Arts—Learn the basics of juggling, Diablo, rhythm sticks, hula-hooping and stilt walking from young circus pros.
Hats from Around the World—Make your own whimsical chapeau!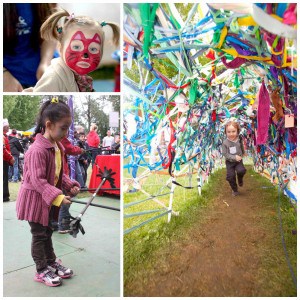 Hai Origami—Make a crane or a butterfly while learning the intricate art of Japanese paper folding.
Spin Art with Make at Granville Island—Create a colourful one-of-a-kind splatter painting while riding a bike!
Face Painting—Get your face painted as a lion, a tiger or superhero, oh my!
The Wishing Tree— Make a wish, and hang it on our tree. Who knows, maybe your wish will come true.
Magical Mystery Maze—Play games in our enchanting outdoor maze.
Twist & Toddle!—Play and create in this tent jam-packed with fun for the preschooler set.
Musical Playground—Make some noise! Thump, clang and bang your way through this sonic installation.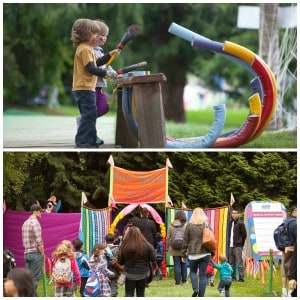 Port of Vancouver Activity Zone – Visit Salty in the Port of Vancouver tent to learn about how the port brings toys, shoes, games and snacks to your home and school! Take a Port Selfie and enter to win cool prizes from VICF and Port of Vancouver!
WILD Migration Map—Kick off your shoes and walk across North America to explore the migration routes of twenty at-risk species. Create your own migration route and the creature it belongs to! Presented by the Vancouver Aquarium and the Canadian Wildlife Federation.
SunRype Sampling Zone – Thirsty? Come taste some delicious treats from SunRype!
Modular Train Exhibit  – CHOO CHOO! Come see working modular trains in an incredible immersive environment. Presented by CN and Maindland Modular Railway Society.
Peace Chimes—Gandharva Loka welcomes you to help create one of the larger bamboo wind chimes in the world. Paint one of the bamboo pipes and share "Peace" around the world.
Come Fly With Us! —Make a craft, learn Spanish, play games, make a kite, listen to stories and dance! Join the fiesta with the Vancouver Latin American Cultural Centre!
Our Monkey Story! Asian-Canadian Special Events Association—It's the year of the Monkey! Pick a monkey and decorate the ACSEA activity stage. Add props and sets to tell your own Monkey Story.
CanoeKids!  Come paddle with us!  Try out our canoes and kayaks and race through our monkey-themed water-obstacle course.  Ready-Set-Go!  Join the fun with the False Creek Racing Canoe Club Thursday 11-2, Friday 11-4, and Saturday & Sunday 10-5.
Save
Save