Will's Jams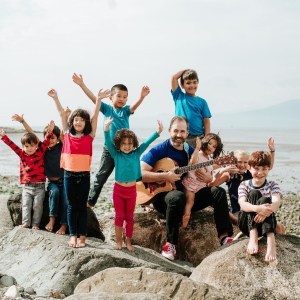 Get ready to boogie with Will's Jams, award-winning children's musician and CBC Kids TV star Will Stroet. Jam along with Will as he performs his high-energy sing-a-long tunes with fun actions that kids love! Will connects with kids through his dynamic and interactive music in English and French. Come join us for the official Vancouver launch of Will's 10th album, Rocks & Roots, which inspires kids to go on outdoor adventures and try new things. Will's celebration of nature, wildlife and family through "Rocks and Roots" is a masterpiece of mischief and music, further cementing him as the ultimate star of children's rock and roll.  Watch a video of Will's Jams below!

Performer: Will's Jams
Country: BC / Canada
Genre: Music
Show length: 60 minutes

Ages: Ages 2-8 (Babes in arms welcome)
Venue: Revue Stage (Venue 1)
A live music experience is much louder and very different than hearing recorded songs at home. While all ages are welcome, a loud concert, singalong or drumming may be frightening to some. Please use your own discretion when making your show selection.
Show Times
Saturday, June 1, 2019
1:00 pm — 2:00 pm Revue Stage
Sunday, June 2, 2019
10:30 am — 11:30 am Revue Stage
1:00 pm — 2:00 pm Revue Stage
Tickets
One Show Day Pass: $22.00 per adult; $12.50 per child + GST and s/c
4-Pack Family Pass: (4 tickets to 1 show) $58.00 + GST and s/c
More info on ticket pricing

Educational, fun loving, funky folk/rock that children of any age can love and learn from. Upbeat and always entertaining and educational, Will Stroet brings to children's music what is truly needed: a sense of loving the little things in life while exploring the world around you. Will is sure to be around in this scene for a long time to come.

~ Zachary Monson, Programmer, Kids' Stuff, Galaxie Radio
Will's Jams brings authentic family friendly music to CBC Kids and is a fan favourite on TV, online and at our events.

~ Marie McCann, Senior Director, Children's Content, CBC