The Vancouver Youth Choir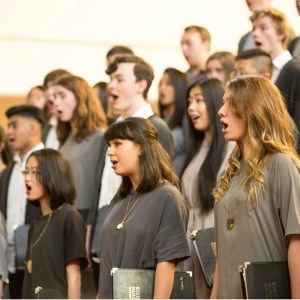 The Vancouver Youth Choir (VYC) is sure to capture your heart with their irresistible joyous energy.  Uplifting songs come to life through the talented voices of one of Canada's finest youth choirs.  Winners in the 2017 National Competition for Canadian Amateur Choirs, VYC carry audiences away with their engaging performances of diverse and eclectic music. Let VYC take you on a musical journey from indie rock to the Renaissance and from South Africa to Sesame Street!  Want to sing too? You'll get your chance when the VYC guides the audience through some fun call and response songs. Whatever your musical tastes, age or singing-ability, you're in for a real treat. Not only is VYC an excellent introduction to live choral performance it's also an inspiring opportunity to show kids that it only takes one voice to start a chorus. Check out their video below.

Performers: The Vancouver Youth Choir
Country: Canada / BC
Genre: Music
Show length: 45 minutes
Ages: All ages

Venue: Revue Stage
Show Notes: Suitable for ELL and the Visually Impaired
A live music experience is much louder and very different than hearing recorded songs at home. While all ages are welcome, a loud concert, singalong or drumming may be frightening to some. Please use your own discretion when making your show selection.
Show Times
Sunday, June 3, 2018
2:30 pm — 3:15 pm Revue Stage
Tickets
School ticket price: $12.00 + GST
One Show Day Pass: $22.00 per adult; $12.50 per child + GST and s/c
4-Pack Family Pass: (4 tickets to 1 show) $58.00 + GST and s/c
More info on ticket pricing