The Polar Bears Go Up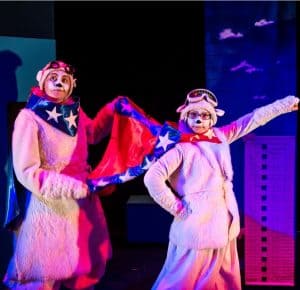 Get ready to fall in love with these two adorable polar bears! They've lost their prized balloon and they need to get it back. Plenty of laughs ensue as the pair come up with increasingly off-the-wall ways to reach their friend. They climb trees, jump on clouds, reach for the stars, bounce and boogie their way to the top, while stopping for sandwiches along the way, of course! With no words, the artists skillfully and playfully tell the bears' story and create a magical world where anything is possible. Children will be swept away in this charming, visual show. One thing is for sure, the only way is up! Watch the video below!

Producing Company: The Polar Bears 
Country: Scotland
Genre: Theatre
Show length: 50 minutes
Resources: Study Guide, Relaxed Performance Visual Story
Ages: Ages 2-6 (Grades: Pre-1), Relaxed Performance: All ages welcome 

Venue: Performance Works Theatre (Venue 6)
Show Notes: One performance will be relaxed
Our Relaxed Performance is a specially designed and adapted performance that welcomes audience members who benefit from a more relaxed performance experience, including children on the autism spectrum or with sensory and communication disorders. A more casual and relaxed environment is welcomed in the performance space where audience noise and movement is okay and adaptations are made to light and sound effects. The Vancouver International Children's Festival is committed to making performances accessible to all, and we are excited to include this sensory-friendly performance in our lineup this year.
Show Times
Wednesday, May 29, 2019
10:30 am — 11:20 am Performance Works
12:30 pm — 1:20 pm Performance Works
Thursday, May 30, 2019
10:30 am — 11:20 am Performance Works
12:30 pm — 1:20 pm Performance Works
6:30 pm — 7:20 pm Performance Works (Pyjama Night)
Friday, May 31, 2019
10:30 am — 11:20 am Performance Works
12:30 pm — 1:20 pm Performance Works (Relaxed Performance)
Saturday, June 1, 2019
11:00 am — 11:50 am Performance Works
1:30 pm — 2:20 pm Performance Works
4:00 pm — 4:50 pm Performance Works
Sunday, June 2, 2019
11:00 am — 11:50 am Performance Works
1:30 pm — 2:20 pm Performance Works
Tickets
School ticket price: $12.00 + GST
One Show Day Pass: $22.00 per adult; $12.50 per child + GST and s/c
Pyjama Night Show: All tickets $11 +GST and s/c
4-Pack Family Pass: (4 tickets to 1 show) $58.00 + GST and s/c
More info on ticket pricing


Enthralling adventure delivered with charm, wit and a sense of wonder.

~ The Stage ****
A sense of joyful discovery runs throughout this delightful piece!

~ Londonist ****