The Canada Show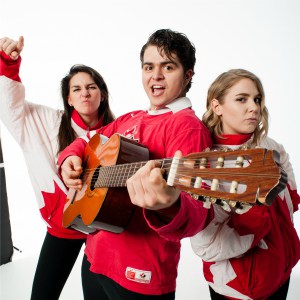 In an action-packed sixty minutes, The Canada Show takes you on a hysterically historical joy-ride through 20,000 years of Canada. Told from the point of view of three bickering historians – one First Nations, one French and one just trying to keep the whole thing together. Hold on tight for this fast-paced, irreverent and absolutely hilarious adventure as you watch these 3 singing historians battle to tell their version of Canadian history. Learn about parts of our history few knew existed in a fun and unique way! Watch a video below!
Winner of the Just for Laughs Frankie Award for BEST COMEDY.

Producing Company: Monster Theatre
Country: BC / Canada
Genre: Theatre
Show length: 60 minutes
Ages: Ages 7 and up (Grades: 2 and up)



Venue: Revue Stage
Show Notes: Please be advised there will be a short pre-show
presentation before each performance
Show Times
Monday, May 29, 2017
10:30 am — 11:30 am Revue Stage
Tuesday, May 30, 2017
12:30 pm — 1:30 pm Revue Stage
Wednesday, May 31, 2017
10:30 am — 11:30 am Revue Stage
Friday, June 2, 2017
12:30 pm — 1:30 pm Revue Stage
Saturday, June 3, 2017
11:00 am — 12:00 pm Revue Stage
Tickets
School ticket price: $11.00 + GST
One Show Day Pass: $22.00 per adult; $12.50 per child + GST and s/c
4-Pack Family Pass: (4 tickets to 1 show) $58.00 + GST and s/c
More info on ticket pricing

Public Festival Tickets available on Tuesday, March 7th, 2017!


School Tickets are on sale NOW! 


It's history without the boring stuff! A gem of a show!

~ Ottawa Citizen
Hilarious!

~ The Calgary Herald