Splash'N Boots Live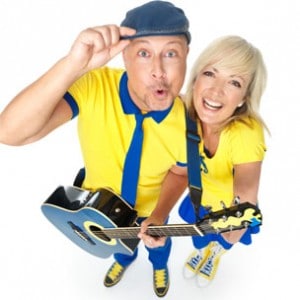 When you mix a little bit of yellow with blue you usually get green, but when Treehouse TV's Splash'N Boots take the stage, you get a wild tornado of fun and joy! Get ready to move and groove and show off your dance moves with Splash'N Boots at the wildest family dance party of the year! Recently nominated for their 4th Juno award for Children's Album of the Year, Splash and Boots can't wait to meet you! Bring your dancing shoes and get ready to get up off your feet!  Check out their video below!

Performers: Splash'N Boots
Country: ON / Canada
Genre: Music
Show length: 50 minutes
Ages: Ages 1-8 (Babes in arms welcome), (Grades: Pre – 2)

Venue: The Revue Stage
Show Notes: Suitable for ELL and the Visually Impaired
A live music experience is much louder and very different than hearing recorded songs at home. While all ages are welcome, a loud concert, singalong or drumming may be frightening to some. Please use your own discretion when making your show selection.
Show Times
Monday, May 28, 2018
10:30 am — 11:20 am Revue Stage
12:30 pm — 1:20 pm Revue Stage
Tuesday, May 29, 2018
12:30 pm — 1:20 pm Revue Stage
Wednesday, May 30, 2018
10:30 am — 11:20 am Revue Stage
Thursday, May 31, 2018
6:30 pm — 7:20 pm Revue Stage (PJ Night)
Friday, June 1, 2018
10:30 am — 11:20 am Revue Stage
Saturday, June 2, 2018
11:00 am — 11:50 am Revue Stage
1:30 pm — 2:20 pm Revue Stage
Sunday, June 3, 2018
11:00 am — 11:50 am Revue Stage
Tickets
School ticket price: $12.00 + GST
One Show Day Pass: $22.00 per adult; $12.50 per child + GST and s/c
Pyjama Night Show: All tickets $11 +GST and s/c
4-Pack Family Pass: (4 tickets to 1 show) $58.00 + GST and s/c
More info on ticket pricing


Cutting Edge Children's Entertainment
~ the Globe and Mail
The U2 of children's entertainment
~ The Standard