Iron Peggy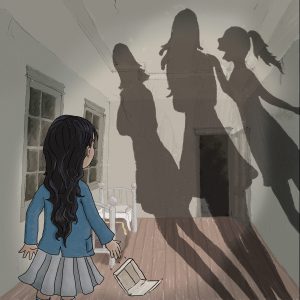 Peg is struggling for survival at her boarding school. Three girls take aim at Peg and make her life utterly miserable. When her beloved Grandmother dies she just wants to disappear but then an unexpected gift arrives. Inside Peg finds three Canadian cast iron soldiers. In despair, she throws them against the floor. How can they help her? They are so small and the girls' shadow is so big. But, miraculously the toys come to life, as Indigenous Snipers from WWI, just in time to wage an epic battle against the girls.
A multi-media feast that will appeal to audiences both young and old, Iron Peggy uses a creative and ever-surprising blend of live performance, animations, video and shadows to tell this moving story.
With 2018 marking the 100th year anniversary of WWI, Iron Peggy is an excellent introduction to its history and a touching testimony that not only celebrates the First Nation participation in the war effort but also a young girl's personal victory. World Premiere!
The Vancouver International Children's Festival is delighted to be able to present this innovative and production by award-winning, international Métis performer, playwright and director Marie Clements.
Producing Companies: Vancouver International Children's Festival and Boca del Lupo in association with Red Diva Projects.
Country: BC
Genre: Theatre
Show length: 50 minutes
Resources: Indigenous contributions in WWI, First Nations Soldiers
Ages: Ages 10 and up (Grades: 4 and up)
Venue: Waterfront Theatre
Show Times
Tuesday, May 28, 2019
10:30 am — 11:20 am Waterfront Theatre
12:30 pm — 1:20 pm Waterfront Theatre
Wednesday, May 29, 2019
10:30 am — 11:20 am Waterfront Theatre
12:30 pm — 1:20 pm Waterfront Theatre
Thursday, May 30, 2019
12:30 pm — 1:20 pm Waterfront Theatre
7:00 pm — 7:50 pm Waterfront Theatre
Friday, May 31, 2019
10:30 am — 11:20 am Waterfront Theatre
12:30 pm — 1:20 pm Waterfront Theatre
School Tickets
One Show Festival Pass: $11.00 + GST
Two Show Festival Pass: (1 ticket to 2 shows) $20.00 + GST
More info on ticket pricing