Le sentier des rêves (The Path of Dreams)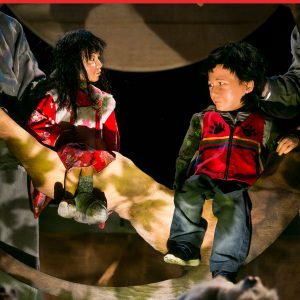 Dans ce conte fascinant, Ashini, un jeune innu se lance dans un monde de rêves à la recherche du collier perdu de sa grand-mère et de sa culture oubliée. Alors que des mondes clashent et des cultures se lient, il se retrouve dans le monde étrange des Onis, dans un Japon du VII ème siècle, où il rencontre une petite fille avec un destin particulier. Pourra-t-elle l'aider ? Une combinaison de contes, de marionnettes, et de masques crée un monde mythique où tout est possible. Une production visuelle accomplie et formulée dans une esprit qui intriguera et informera des jeunes esprits. Parfois c'est lorsque l'on se sent dépassé par les évènements que l'on parvient à découvrir sa propre personnalité. Vidéo.

In this spellbinding tale, a young Innu boy plunges into the dream-world in search of his grandmother's lost necklace and his lost culture. Worlds collide and cultures connect as Ashini finds himself in the strange world of the Oni in 7th century Japan and meets a little girl with a very special destiny. Can she help him? Expert storytelling, puppetry, masks and live music combine to create a mythical world where anything is possible.  A beautifully imagined production designed to intrigue and inform young minds, sometimes the funnest part of getting lost is finding yourself. Watch the video below.
Producing Company: Théâtre Motus
Country: Québec
Genre: Puppetry / Theatre
Show length: 55 minutes
Ages: Grade: 2 and up 


Venue: Performance Works
Show Times
Wednesday, May 30, 2018
10:30 am — 11:25 am Performance Works (en français)
12:30 pm — 1:25 pm Performance Works (en français)
Thursday, May 31, 2018
10:30 am — 11:25 am Performance Works (en français)
12:30 pm — 1:25 pm Performance Works (en français)
Friday, June 1, 2018
10:00 am — 10:55 am Performance Works (en français)
Tickets
School ticket price: $12.00 + GST
One Show Day Pass: $22.00 per adult; $12.50 per child + GST and s/c
4-Pack Family Pass: (4 tickets to 1 show) $58.00 + GST and s/c
More info on ticket pricing