Courts-métrages de l'ONF (NFB – Shorts)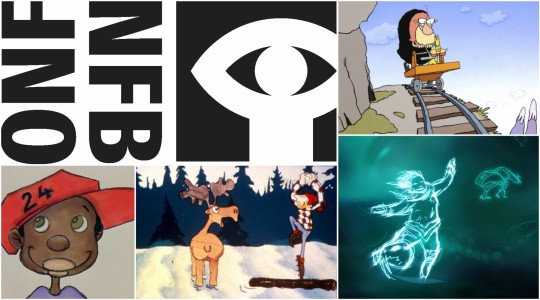 Quelle meilleure façon de finir votre journée au Festival que par une série de courts-métrages de l'Office national du film (ONF)?! Nous avons sélectionné parmi les meilleurs films à ne pas manquer pour vous et vos enfants. Parents et enseignants se souviendront avec nostalgie de certains de ces films, d'autres plus récents font aujourd'hui partis des archives de l'ONF. Une chance inouïe de présenter aux enfants les icônes classiques tels que La Valse du maître draveur ou bien Le chat colla ainsi que des courts-métrages plus modernes sur l'identité innuite dans Trois Mille, un chef d'oeuvre de l'héritage culturel canadien. D'une rare beauté, vous ne trouverez pas ces trésors du 7ème art au cinéma de votre quartier. Venez explorer les trésors de l'ONF et découvrir les joyaux du patrimoine canadien.

What better way to complete your day at the Festival than by taking in some National Film Board (NFB) shorts?!  We've compiled a selection of the best, must-watch NFB films for you and your kids. Parents and teachers will remember with nostalgia watching many of these films while growing up, while others are newer additions to the NFB archives. A great opportunity to introduce your kids to iconic classics like, La valse du maître draveur and  Le chat colla to modern takes on the Inuit identity in, Trois mille this is Canadiana at its finest. A rare treat, these are films you can't 'waltz' into your local movie theatre and see. Come explore the treasures of the NFB and explore what it means to be Canadian. *** Screenings available in French only.*** 
Producing Company: National Film Board
Country: Canada
Genre: Film
Show length: 30 minutes
Ages: Ages 5 and up (Grades: K and up)
Venue: Carousel Studio
Le chat colla / The Cat Came Back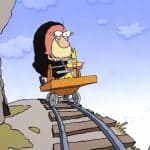 Inspirée d'une chanson folklorique centenaire, voici l'histoire d'un vieux monsieur qui ne réussit pas à se débarrasser d'un petit chat jaune qui persiste à revenir chez lui, malgré ses efforts désespérés pour l'en dissuader.
This hilarious animated short is based on the century-old folk song of the same name. Old Mr. Johnson makes increasingly manic attempts to rid himself of a little yellow cat that just won't stay away…
Christopher change de nom/ Christopher Changes His Name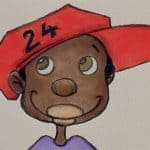 Christopher déteste son nom qu'il juge trop commun. Lorsque tante Gail de Trinidad lui raconte une histoire au sujet d'un personnage impressionnant appelé Tiger, le gamin change son nom pour celui de Tiger. Puis, il trouve un meilleur nom… Lorsqu'il a de la difficulté à encaisser le chèque que tante Gail lui a fait pour son anniversaire au nom de Christopher Mulamba, il comprend combien son véritable nom est spécial. Le gardera-t-il ou ne le gardera-t-il pas?
Christopher hates his name – it's just too common! When Aunt Gail from Trinidad tells him a story about a larger-than-life character called Tiger, Christopher changes his name to Tiger. But then he finds a better name… When he has trouble cashing Aunt Gail's birthday cheque made out to Christopher Mulamba, he realizes how special his real name truly is. Maybe he could stick with it… or maybe not!
Resources: Cahier Pédagogique,  Study Guide
Canada vignettes : la valse du maître draveur/ Canada Vignettes: Log Driver's Waltz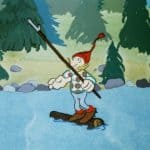 Au rythme d'une chanson interprétée par les soeurs McGarrigle, La Valse du maître draveur décrit, par une joyeuse animation entremêlée de métrage d'archives, l'histoire d'une jeune femme qui repousse les prétendants qu'on lui destine parce qu'elle est imbue d'un draveur agile qui finalement l'entraînera dans une valse effrénée.
Easily one of the most often-requested films in the NFB collection, this lighthearted animated short is based on the song "The Log Driver's Waltz" by Wade Hemsworth. Kate and Anna McGarrigle sing along to the tale of a young girl who loves to dance and chooses to marry a log driver over his more well-to-do competitors.
Trois mille/ Three Thousand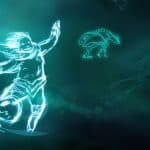 L'artiste inuite Asinnajaq nous plonge dans un sublime univers imaginaire. En douze minutes de cinéma lumineux inspiré par des documents d'archives, elle revisite le passé et le présent du peuple inuit pour imaginer son avenir sous un angle nouveau et saisissant.
Inuk artist Asinnajaq plunges us into a sublime imaginary universe—12 minutes of luminescent, archive-inspired cinema that recast the past, present and future of Inuit in a radiant new light.
La renard roux
Court métrage documentaire à propos du renard roux. Allant de la cécité à l'indépendance moins d'un mois après sa naissance, cet animal nocturne est doté d'un petit appétit omnivore, comprenant insectes, plantes et lapins.
Le morillon a dos blanc
Court métrage documentaire à propos de l'aristocrate des canards, c'est-à-dire le morillon à dos blanc. Autrefois très présent, désormais plus rare, ce canard audacieux se reproduit surtout dans les marais canadiens.
Show Times
Thursday, May 31, 2018
10:30 am — 11:00 am Carousel Studio (en français)
12:30 pm — 1:00 pm Carousel Studio (en français)
Friday, June 1, 2018
10:30 am — 11:00 am Carousel Studio (SOLD OUT) (en français)
12:30 pm — 1:00 pm Carousel Studio (SOLD OUT) (en français)
Tickets
Film Pass: $7.00 + GST and s/c
Add a Film Pass to a Performance for only: $4.00 + GST and s/c more
More info on ticket pricing