Masabo Celebrates Africa!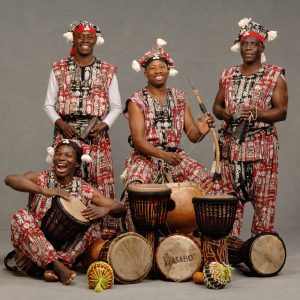 Partagez l'explosion d'énergie lorsque Fana Soro et Masabo entrent en scène ! Venez célébrer cette incroyable et magnifique expression de l'histoire et de la culture de l'Afrique de l'Ouest. Ce groupe dynamique tout á la fois musiciens, conteurs et danceurs créent une ambiance de mélodies envoûtantes et de rythmes endiablés tout en interprétant les arts ancestraux de l'Afrique de l'Ouest. Un festin incroyable de chansons traditionnelles, d'histoires, et de perfomances athlétiques, nous vous promettons qu'á la fin du spectacle vous ne ne tiendrez plus en place ! Vidéo.

Feel the explosion of energy when Fana Soro and Masabo hit the stage! Come celebrate this beautiful and thrilling expression of West African history and culture. This dynamic group of musicians, storytellers and dancers fill the air with soaring melodies and driving rhythms as the ancient arts of West Africa are brought to life.  An amazing feast of traditional songs, stories and athletic dance, we guarantee that by the end of the show you won't be needing your seat! Watch the video below.
Performers: Fana Soro and Masabo
Country: BC / ON / West Africa

Genre: Music / Storytelling / Dance
Show length: 50 minutes
Resources: Cahier Pédagogique, Study Guide


Ages: All Ages (Grades: K-12)
Venue: Revue Stage
Show Notes: Please be advised there will be a short presentation before the marked performances below.
Show Times
Tuesday, May 29, 2018
10:30 am — 11:20 am Revue Stage (en français)
Wednesday, May 30, 2018
12:30 pm — 1:20 pm Revue Stage (Pre-show presentation)
2:00 pm — 2:50 pm SOLD OUT (en français)
Thursday, May 31, 2018
10:30 am — 11:20 am Revue Stage (en français)
12:30 pm — 1:20 pm Revue Stage (en français)
Friday, June 1, 2018
12:30 pm — 1:20 pm Revue Stage (en français)
Saturday, June 2, 2018
3:30 pm — 4:20 pm Revue Stage (Pre-show presentation)
Tickets
School ticket price: $12.00 + GST
One Show Day Pass: $22.00 per adult; $12.50 per child + GST and s/c
4-Pack Family Pass: (4 tickets to 1 show) $58.00 + GST and s/c
More info on ticket pricing


Wow! Fana Soro and Masabo engaged the students from the first African drum beat to the last dance! A very dynamic cultural experience for our children!

~ Teacher from Winchester Public School, Ontario
An artist with integrity, vision, and immense talent, Fana has been a positive influence on hundreds of Vancouver students and educators and I give him my highest recommendation.

~ Valerie Dare, Director, Oceanside Community Arts Council