The Jocelyn Pettit Band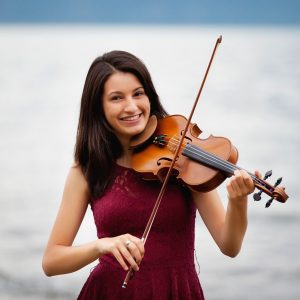 Singing, stepdancing and fiddling take center stage when local talent, Jocelyn Pettit and her band come to the Festival!  Jocelyn delivers a refreshing and energizing mix of traditional and contemporary music the whole class will enjoy. Don't miss this lively concert of Celtic and Canadian folk music where the rhythmic energy and pulse of the music will get kids' toes tapping and hands clapping! A dynamic, upbeat and fun show that's guaranteed to lift your spirit and inspire you to dance. Watch a video of Jocelyn below!

Performers: The Jocelyn Pettit Band
Country: BC / Canada
Genre: Music
Show length: 45 minutes
Ages: All ages (Grades K-12)
Venue: Waterfront Theatre
Show Notes: Please be advised there will be a short presentation before each performance. This show is suitable for ELL and the Blind and Visually Impaired.
A live music experience is much louder and very different than hearing recorded songs at home. While all ages are welcome, a loud concert, singalong or drumming may be frightening to some. Please use your own discretion when making your show selection.
Show Times
Monday, May 28, 2018
10:30 am — 11:15 am Waterfront Theatre
Tuesday, May 29, 2018
12:00 pm — 12:45 pm Waterfront Theatre
Tickets
School ticket price: $12.00 + GST
One Show Day Pass: $22.00 per adult; $12.50 per child + GST and s/c
4-Pack Family Pass: (4 tickets to 1 show) $58.00 + GST and s/c
More info on ticket pricing


An incredible fiddle player, who blew away the audience with her expertise.

~ The Celtic Connection, Canada