Jamie Adkins: A Fool's Errand – Circus (Espièglerie)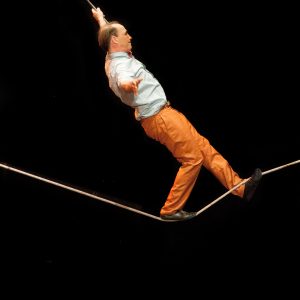 Tubas, ping pong balls and underpants?! This show has it all and then some! We've all had days where nothing seems to go as planned.  In A Fool's Errand, world-renowned juggler and comic acrobat Jamie Adkins is having one of those days.  As he stumbles on stage, he's determined to give it his all. Of course, nothing goes right and the resulting antics are hilarious. A Cirque du Soleil veteran, Adkins entertains and delights using his unique blend of circus arts, acrobatic skill and physical comedy, all accompanied by masterful musician Julie Houle.  With the help of his tuba-playing friend, against all odds, this sweet and clumsy character perseveres. Whether on the ground, on a ladder or on a slack wire, Jamie Adkins and this show end up winning the day! Watch a video below!

Tubas, balles de ping pong, et caleçons ?! Ce spectacle utilise tous ces élèments et plus encore ! On a tous eu des journées où tout va de travers. Dans Espièglerie, Jamie Adkins, jongleur, acrobate et clown de renommée internationale explore tous les sentiers possibles qui s'offrent à lui. Lorsqu'il arrive sur scène, il est farouchement décidé à braver tous les obstacles. Mais rien ne va comme prévu et les scènes de quiproquo qui s'enchaînent sont hilarantes. Vétéran du Cirque du Soleil, Adkins dévoile avec aisance sa panoplie de talents en arts du cirque, acrobaties et comédie physique débridée en collaboration avec la talentueuse tubiste Julie Houle. Assisté pas son amie et contre vents et marées, notre bouffon persévère. Que ce soit sur terre ferme, sur une échelle ou sur un fil mou, Jamie Adkins et son spectacle nous révèle que l'art de la persévérance a autant de valeur que le succès lui-même ! Vidéo.
Performers: A show by Jamie Adkins  – performed by Jamie Adkins and Julie Houle
Country: Québec / Canada
Genre: Circus/Physical Theatre
Show length:  50 minutes
Resource: Cahier Pédagogique, Study Guide



Ages: All Ages (Grades K-12)
Venue: Granville Island Stage (Venue 2)
Show Times
Monday, May 27, 2019
10:30 am — 11:20 am Granville Island Stage
12:30 pm — 1:20 pm Granville Island Stage
Tuesday, May 28, 2019
10:30 am — 11:20 am Granville Island Stage
Wednesday, May 29, 2019
12:30 pm — 1:20 pm Granville Island Stage (en français)
Thursday, May 30, 2019
10:30 am — 11:20 am Granville Island Stage (en français)
12:30 pm — 1:20 pm Granville Island Stage (en français)
Friday, May 31, 2019
12:30 pm — 1:20 pm Granville Island Stage
7:00 pm — 7:50 pm Granville Island Stage
Saturday, June 1, 2019
1:00 pm — 1:50 pm Granville Island Stage
Sunday, June 2, 2019
12:00 pm — 12:50 pm Granville Island Stage
2:30 pm — 3:20 pm Granville Island Stage
Tickets
School ticket price: $12.00 + GST
One Show Day Pass: $22.00 per adult; $12.50 per child + GST and s/c
4-Pack Family Pass: (4 tickets to 1 show) $58.00 + GST and s/c
More info on ticket pricing


Jamie uses all his talents (which are huge) to surprise us with a romantic simplicity, priceless elegance and make us laugh throughout the show.

~ Premiere.fr (Paris)
A gem of a show for the whole family!

~ Le Devoir (Montréal)