The Itch of the Golden Nit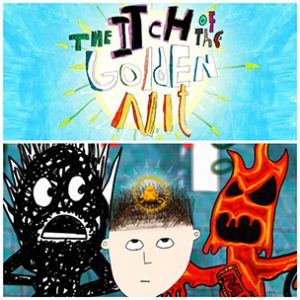 Created by the Tate Modern with Aardman Animation (Chicken Run, Shaun the Sheep, Wallace & Grommit, Arthur Christmas), this groundbreaking project involved more than 34,000 school children to create the artwork and conceive the storyline for this delightfully funny 30-minute animated film. Will 11-year-old Beanie save the universe and return the Golden Nit to its rightful place? British Academy of Film and Television Arts (BAFTA) award winner and Guinness World Record holder! Watch a video of how they made the film below!

Producing Company: Tate Modern
Country: United Kingdom
Genre: Film
Show length: 30 minutes
Ages: Ages 4 and up (Grades: K and up)
Venue: Carousel Studio

Show Notes: Suitable for ELL
Show Times
Monday, May 29, 2017
12:30 pm — 1:00 pm Carousel Studio
Tuesday, May 30, 2017
10:30 am — 11:00 am Carousel Studio
Friday, June 2, 2017
12:30 pm — 1:00 pm Carousel Studio
Saturday, June 3, 2017
1:30 pm — 2:00 pm Carousel Studio
Sunday, June 4, 2017
12:00 pm — 12:30 pm Carousel Studio
Tickets
Film Pass: $7.00 +GST and s/c
Add a Film Pass to a Performance for only: $4.00 +GST and s/c more
More info on ticket pricing

Public Festival Tickets available on Tuesday, March 7th, 2017!