Fred and Friends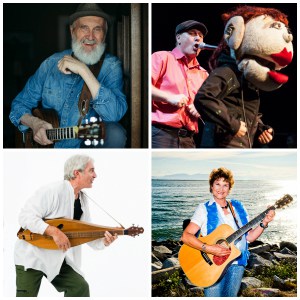 With so many stars in one room, you're going to need sunglasses!  For our 40th Festival, we're bringing back some past festival favourites to help us celebrate! Don't miss the best of the Festival musical extravaganza with Fred Penner and his friends, Charlotte Diamond, Norman Foote and Rick Scott all on stage for one great show!  Join Fred Penner for a rare and extraordinary performance featuring the zany antics of Norman Foote, the beautiful songs of Charlotte Diamond and the always colourful and quirky hysterics of Rick Scott.  Sing along with 4 of Canada's best-loved children's singers.
SOLD OUT
Performer: Fred Penner, Charlotte Diamond, Rick Scott and Norman Foote
Country: Canada
Genre: Music
Show length: 70 minutes
Ages: Ages 1-7 (Babes in arms welcome), (Grades: Pre-2)
Venue: Granville Island Stage
Show Notes: Suitable for ELL and the Blind and Visually Impaired
A live music experience is much louder and very different than hearing recorded songs at home. While all ages are welcome, a loud concert, singalong or drumming may be frightening to some. Please use your own discretion when making your show selection.
Show Times
Saturday, June 3, 2017
10:30 am — 11:40 am Granville Island Stage
Tickets
SOLD OUT!