Activity Village 2017
April 06, 2017
Spend the day being creatively playful in our activity village. Get creative with your kids by taking part in our on-site arts activities. Watch their eyes light up as you wander through a magical mystery maze, learn how to juggle, make crafts and have a blast!
Your show ticket includes an Activity Village wristband! Unable to come to a show but still want to take in the Festival? Activity Village wristbands are available for purchase on-site:
Activity Village Wristband – $6 per person (includes tax and s/c), available on-site – cash only.
Here are some of the playful and educational arts activities we have ready for you to explore: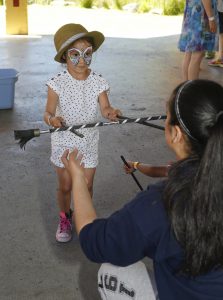 AGES 0–5
Twist & Toddle! – Play and create in this tent jam-packed with fun for the under 5 set.
AGES 3+
Dragon boating with False Creek Racing Canoe Club – Experience our Youth Paddling Programs!  Come try out dragon boating with us! (dragon boat rides every hour). Hours: Sat and Sun 12-5pm
Colouring Party at Make! – Grab up some markers and get your colouring on! Colour a tote bag or kids T featuring artwork by a local artist. By donation. NEW!
Circus Arts – Learn the basics of juggling, Diablo, rhythm sticks and stilt walking from young circus pros.
 AGES 3–10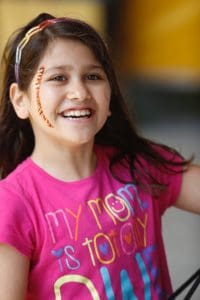 Birthday Puppets – Make your own pop-up puppet! NEW!
AGES 5+
Aboriginal Art – Come and learn to make a traditional First Nations craft. NEW!
The GIFnTake – Hop in the NFB photobooth and create your very own movie GIF. NEW!
Rooster Winter Games with LunarFest – Year of the Rooster means courage, bravery, and hard work. Re-live Vancouver 2010 and try to reach the podium. NEW!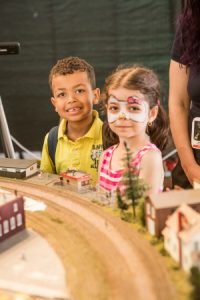 ALL AGES
Birthday Cake – It's our 40th birthday, help us decorate a cardboard cake sculpture! NEW!
Birthday Games – Come play party games with your Festival friends! NEW!
Modular Train Exhibit  – CHOO CHOO! Come see working modular trains in an incredible immersive environment. Presented by CN and Mainland Modular Railway Society.
Face Painting – Become whatever you'd like to be, the only limit is your imagination. A Kid's Fest tradition for 40 years!
Youth 4 Youth Stage – Come to the Picnic Pavilion and see talented youth take to the stage and shine. View the Youth 4 Youth Stage Schedule.  NEW!
Birthday Wishes – Make a wish, and hang it on our wish tree.
Travel the World – Travel the 7 continents while you play and learn amazing facts from around the world with the Vancouver School Board! NEW!
Knowledge Kids – Science Lab – Art and Science come together and rainbows come to life. See colours change, jump and walk right before your eyes. NEW!
Hai Origami – Make a boat or a fish while learning the intricate art of Japanese paper folding.
Magical Mystery Maze – Play games in our enchanting outdoor maze.
Charter of Children's Rights to Art & Culture Exhibition – Take in 18 principles expressed in 27 languages with beautiful illustrations from La Baracca Testoni Ragazzi Theatre in Italy. NEW!
The Zen Zone – Roar like a lion, be still like a tree and salute the sun in this fun and playful introduction to yoga with Yoga It Up. NEW!
Here's My Canada – Record a 30 second video expressing what Canada means to you! A signature project of Historica Canada and Canada 150. NEW!
Port of Vancouver Activity Zone – Visit Salty at the Port of Vancouver tent to learn about how the port brings toys, shoes, games, and snacks to your home and school!